Much of the work done in evaluation is published as articles in peer reviewed journals or as reports to those who commissioned it. Much is also published in books, either where I am the sole author or in volumes edited by others. Here are some examples of books that I have contributed to.
---
Cyber Society, Big Data and Evaluation  Editors: Gustav Petersson and Jonathan Breul. Transaction Publishers, 2017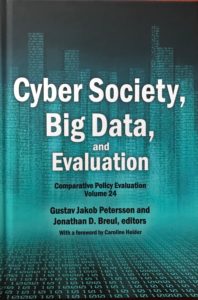 This volume deals with the challenges that new forms of algorithm generated data poses for the evaluation profession. How can evaluators use such data and what are the ssues concerning transparency, trustworthiness and ownership of data. It is a new field, and I have contributed with a chapter about the limitations posed by current 'business practices´, for example how evaluations are commissioned, what competencies evaluators possess and earn money from, as well as risks, uncertainties and incentives to engage with Big Data.
---
Dealing with Complexity in Development Evaluation: Practical Approaches  Editors: Michael Bamberger, Jos Vaessen and Estelle Raimondo; Sage Publications, 2015.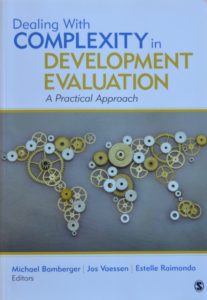 The editors for this volume take the challenges of evaluating complexity further, and they do so by arguing around the concept and connecting it to evaluation practice. Kim Forss has a chapter that describes an evaluation of international coordination to combat trafficking in persons.
---
Speaking Justice to Power: Ethical and Methodological Challenges for Evaluators. Editors: Kim Forss and Mita Marra. Transaction Publishers, 2014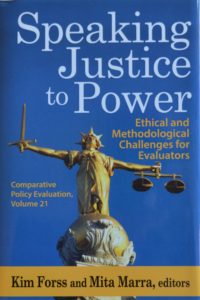 This book addresses ethical issues in evaluation. It speaks to questions of how evaluators address income equity, gender and equality, as well as issues of equity across generation, that is, concerning our use of the environment and the legacy we leave to future generations.
---
Evaluating the Complex: Attribution, Contribution and Beyond.
Editors; Kim Forss, Mita Marra och Robert Schwartz, Transaction Publishers, 2012
The book introduces the notion of complexity and analyses the driving forces behind the increasing complexity in evaluation tasks. It consists of three chapters discussing different asspects of and approaches to complexity, and then another 9 case studies of how evaluation teams have coped with complexity in, for example, studies of policies against smoking in the area of HIV/AIDS, the homeless, and regional development programmes.
---
Evaluation Cultures: Sense-Making in Complex Times. 
Editors; Jean-Claude Barbier and Penny Hawkins. Transaction Publishers, 2012.
Evaluation cultures are discussed and analysed from amny perspectives in this volume; national, regional and organisational cultures, how cultures change, and what researchers actually mean with 'culture'. Kim Forss contributes with a a chapter that distinguishes and gives name to four different types of organisational cultures.
---
Utvärdering som hantverk – bortom mallar och manualer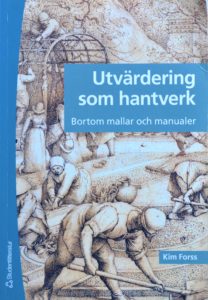 Kim Forss, Studentlitteratur, 2007
As the Swedish title implies, this book is meant to take the practice and the craft of evaluation beyond traditional manuals and standardised formats, and to the real practice of evaluation. It is meant to be used as a basic text in graduate programs on evaluation and in capacity building programs in organisations.
_____________________________________________________________________________
From Studies to Streams – Managing Evaluative Systems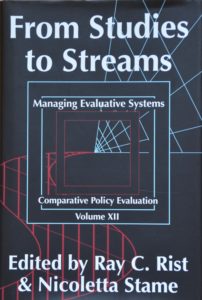 Editors: Ray Rist and Nicoleta Stame. Transaction Publishers, 2006
Kim Forss and Claus Rebien contribute with an article on organisational learning and evaluation, emphasising the need for humour and spontaneity in the work process
---
Evaluating Public Participation in Policy Making
Editor: Joanne Caddy. (2005) OECD Publishing, Paris
My chapter in this book sets out a framework to evaluate public participation in policy-making. There is also a comparison of experiences from a number of OECD member countries.
---
Arbete utomlands – en skrift om kulturskillnader
Studentlitteratur, Lund, 1987
This is a book in Swedish on cross-cultural management. It treats values and attitudes that have a bearing on international work; in project teams, in multinational organisations, and when living and working abroad. The book discusses patterns of coping with foreign cultures and provides advice for firms and individuals.
---
Att ta sig ton – svensk musikexport 1974 – 1999.
Regeringskansliet Ds 1999:28, Stockholm
Also in Swedish, describes the Swedish music industry and develops a model to assess its export performance. The book also describes the growth of the muisc industries and explains the causes behind this transformation.
---
Vad kostar det att regera? En studie av Regeringskansliets dimensionering nu – och i framtiden.
Regeringskansliet Ds 2000:27, Stockholm
An evaluation of the Central Government Offices (the term for all government ministries in Sweden). The purpose was to analyse why they have increased in size and to assess what the appropriate dimesnions of central government would be, in light of a changing environment and new demands on government.
---
Minne och bildning. Museernas uppdrag och organisation. Museiutredningens betänkande.
Sou 1994:51, Stockholm
I took part in this Parliamentary Commission on Swedish museums, as one of two secretaries (Bo Nilsson was the other). My focus drung one year was to define purpose and mission, and analyse systems of coordination and governance among the museums and to develop recomemndations in respect of their functions.
---
Evaluating Development Assistance. Policies and Performance
Redaktör Olav Stokke, (1991) Frank Cass, London
The different chapters of the book describe evaluation of development cooperation in different countries and within some international agencies. I contribute with a chapter on aid evaluation in Sweden.
---
Foreign Aid Towards the Year 2000: Experiences and Challenges
Redaktör Olav Stokke, (1996) Frank Cass, London
This books deals with challenges to development cooperation and new policy directions. My chapter discusses organisational learning and outlines systems features relating to learning.
---
Evaluating Public Participation in Policy Making
Prepared by Joanne Caddy. (2005) OECD Publishing, Paris
My chapter in this book sets out a framework to evaluate public participation in policy-making. There is also a comparison of experiences from a number of OECD member countries.
---
Bra beslut – om effektivitet och utvärdering i biståndet.
Kim Forss and  Jerker Carlsson. Utrikesdepartementet, Ds 1990:57
This book was written together with Jerker Carlsson, on commission from the Ministry for Foreign Affairs. The subject is evaluation and decision-support, in particular to what extent and under what circumstances, and how, evaluation functions need to be independent of the system being evaluated.
---
Planning and Evaluation in Aid Organizations. 
Kim Forss, IIB/EFI and the Nordic Africa Institute, 1985
My doctoral dissertation, which was defended in September 1985. It describes the systems for planning and evaluation in two organisations and draws lessons for organisational effectiveness.